Cantina dei Vini Tipici dell'Aretino has the pleasure to inform all our client about the result obtained for new label at INTERNATIONAL CHALLENGE 2020 GILBERT GAILLARD. CHIANTI DOCG BIO 2019 GOLD MEDAL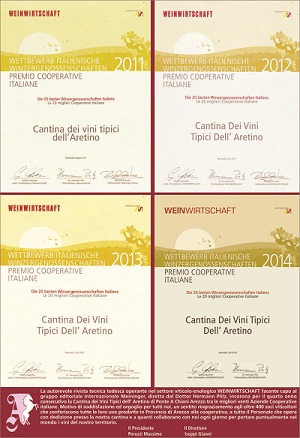 Cantina dei Vini TIpici dell'Aretino located in Ponte a Chiani, Arezzo, is one of the first cooperatives that have joined at the Confcooperative and we are pleased to report that it was crowned for the fourth year in a row among the top 20 Italian Cooperatives by the authoritative Technical  magazine of  viticultural and oenological sector Weinwirtschaft headed by the international publishing group Meininger. The President of the winery, Massimo Peruzzi, thus stated: "This recognition not give only great satisfaction and pride for all of us, is a well-deserved reward for the more than four hundred members who deliver all their grapes grown in the province of Arezzo to our winery. Thanks then to staff, members and all who work with us to bring to Italy and the world our excellent wine and the image of our country. "
Thanks to the excellent relations with the municipality of the city of Guiyang (CHINA) and the organizing committee of the exhibition "Guizhou International Alcoholic Beverages Expo", to which the Cantina dei Vini Tipici dell'Aretino participated for three years in a row, we were invited to make our contribution to the establishment of WADA (World alcoholic Drinks Alliance) becoming exclusive members. It 's an associated  project to the international interchange of information and bureaucratic assistance and customs in the region of Guizhou. Within the association there are wineries from 5 continents, representing more than 30 countries. Below are the photos of the event, for the award of the certificate ...