These days there have been the audit for verification certification on our quality systems with reference to:
- IFS Food 
- BRC Global Standard for food safety 
I'm

glad

to report

the successful

suitability

of such reviews

,

all

brilliantly

confirmed

.

We will promote

this important milestone

with our

wines

with together our

loyal customers

around the world

at the Vinexpo Hong Kong

trade fair

to be held from

May 24 to 26

.

Hall

1

Stand

EF58-02

table

n

.

14
Source of pride for Cantina dei Vini Tipici dell'Aretino the recognition of the Gold Medal in the eighteenth Tasting Contest at the international fair "PRODEXPO" in Moscow in 2016 for the excellent quality of our Chianti 2014 DOCG and Chianti Riserva 2012 DOCG. Even this edition of PRODEXPO the winery was largely successful  and attracted the interest of new major importers, as well as having confirmed the ongoing contracts with advance orders for immediate shipment date.
Great satisfaction expressed by the administration and the director for the success achieved, as we always try to export, along with our wine, even our territory and our power attracting the attention of much of the world. I invite you to see the images of awards achieved.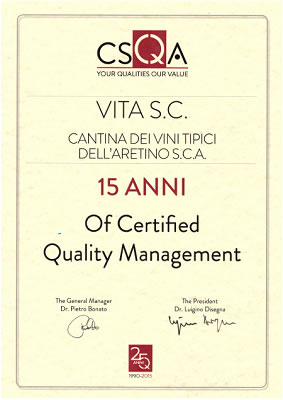 A GOAL THAT FEW COMPANIES HAVE REACHED
A SYSTEM QUALITY 'CERTIFICATE FOR OVER 15 YEARS
Cantina dei Vini Tipici dell'Aretino is holding a QUALITY SYSTEM 'OFFICIALLY CERTIFIED BY' CERTIFYING BODY CSQA Vicenza for over fifteen years. These days are required to audit verification certification on our quality systems with reference to ISO 9001: 2000 - IFS version 6 - FSGS version 6 - all brilliantly confirmed. We will promote this brilliant achievement together with our wines with our loyal customers worldwide at AREZZO our open winery on Sunday 31th of May 2015.
at the VINEXPO BORDEAUX June 14 to 18 year 2015.
PAVILLON TOSCANA HALL 1 - STAND BD78
Thanks to the great friendship with the president of the Chamber of Commerce in Hong Kong Mr. Henry Ho, Cantina dei Vini Tipici dell'Aretino was invited as the only representative of Tuscany to exhibit (two Italians on 12 international exhibitors) our wines at the exclusive event that he organized at one of the most famous restaurants in Shanghai the "Sun Chateau Restaurant" located at the bund, in a breathtaking location.
The event was attended by prominent figures in the wine scene and not, coming from all over China. The wines were very much appreciated by all present collecting various consents and feedback. Moreover, the day before the event, is being called a wine challenge between the exhibiting companies. Each winery had to propose a wine (We have presented the Terra Toscana Chianti Riserva 2010) of his collection, which would be subject to trial by sommerlier and wine lovers of international level. Currently we do not know the outcome of the challenge even though we know from the assistant of Mr. Henry Miss Apple Cheung that wine is loved and has enjoyed extraordinary success.
First appointment for Cantina dei Vini Tipici dell'Aretino to ProWine Shanghai.
A trade show in great demand in the international wine sector so that, last year, they refused our participation because all booths were already been awarded with two months in advance.
This year we have not wanted to miss the chance and since June 2014 the team "Asian" moved in to fix this fair that, according to all the export manager, has a catchment area very important in Shanghai and in the area of Zhejiang. The premises have proved correct and we are very satisfied. We managed to gather contacts of buyers from Chinese cities and areas that without this fair we haven't been able to know. In addition, we found large influx of customers from Japan and South Korea.
We thank all those who have shown interest in our products leaving positive feedback directly or either by phone, in the days following the fair, to our Chinese Director Mr. Robert Deng. All this as evidence that the image of our brand TERRA TOSCANA is, day by day, growing in importance.